Steel Framed Home Insurance
Ember JD is a UK home insurance broker, based in the City of London. Offering competitive quotes and quality cover for Steel Framed Home Insurance. In particular covering British Iron and Steel Federation built (BISF) homes.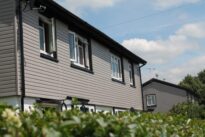 Steel Framed Home Insurance
We understand that these houses are likely to last as long as a standard brick built home and should not be confused with prefabricated dwellings. BISF houses have passed the test of time since the post-war era, so you will find that our quotes are competitive. as well as flexible cover options. Buildings, contents or a combined policy with a large discount. We also cater for a number of different types of occupancy as follows:
Owner occupied residence;
Owner occupied, shared with up to 3 paying lodgers;
Let and occupied by professional tenants.
British Iron and Steel Federation
The policy is with a major insurer in the UK market, who advertise on the telly! All quotes are done by completing our straight forward, plain English quote form. With the premium calculated on the details you supply, including the sum(s) insured required. The form you complete forms the basis of the quote and if cover is then incepted becomes the statement of fact. To proceed with a quote for steel framed home insurance for your buildings, with the options to include contents and cover for your personal possessions away from home, please click on the link below and complete the form.
Questions

&

Answers


Q. What is the likely annual premium?
A. Like all insurance it will depend on the risk details and sums insured.
Q. Is there a minimum premium?
A. £267.
Q. How long is the quote valid for?
A. Up to 30 days.