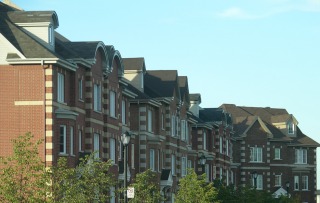 Ember JD is a UK home insurance broker, based in the City of London. Offering competitive quotes and quality cover for Maisonette Insurance. Covering all of the maisonettes in the block under one insurance policy.
Maisonette Insurance
| Purpose built & conversions
Our Maisonette Insurance covers purpose built and conversion maisonettes. Suitable for freeholders, shared freeholds, management companies and residents associations. Whether leasehold occupied, tenanted or as often the case a mixture of both.
We are part one of the oldest insurance groups in the UK, established 1919.
All the maisonettes insured together under one policy. This avoids potential issues when there is damage to communal areas, such as roofs and hallways and there are more than one insurer involved. A claim can be delayed whilst insurers are in despite over how to proceed with the repairs. Issues of differing sums insured and responsibility can drag on, as the communication usually takes place via the individual policyholders, with insurers rarely dealing directly with themselves. When there is major damage or water leakage making maisonettes damp and smelly, occupants might have to move out whilst correspondence goes too and fro in an increasingly complicated mess. Our advice is to avoid pitfuls and insure under the same maisonette insurance policy with Ember JD. Although if in the terms of your lease you have to insure your individual maisonette or flat, we can cater for this, link.
All policies offered come with property owners liability cover and the cost of temporary accommodation following major insured damage as standard. Full accidental damage and loss of rent when let as a result of an insured peril, such as a fire or flood can also be added as optional extensions.
Our quote quotes are simple and easy to understand. To continue with your purpose built or converted Maisonette Insurance quote please click Request a Quote below.